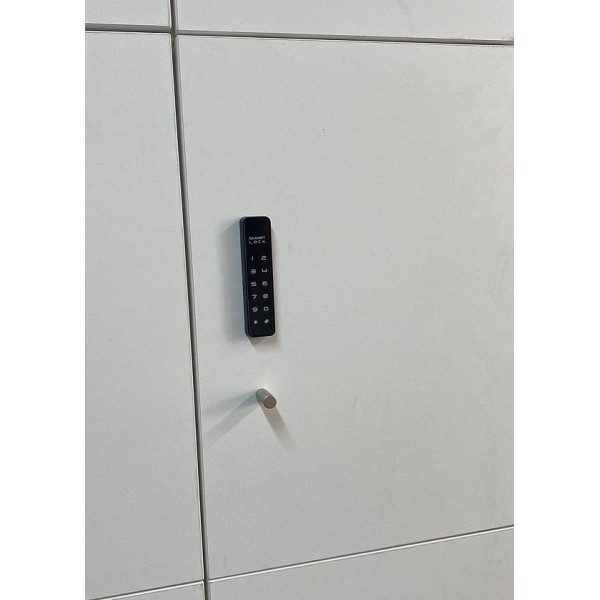 Smart new electronic digital code-locks for office locker banks
Posted By: Asher Times Read: 4526 Comments: 0
See our new
updated article
about the new replacement lock models FL2400 and FL4500
Smart electronic code-locks FL2500, and FL3500 introduced


While 2020 did bring some big upheavals to the world over, we did make a significant change to locks we supply with our popular office locker banks that might have gone unnoticed. Over a considerable amount of time we have been working on introducing new electronic locks that would be offered with our lockers. Our objective in seeking new locks was that they would be; feature rich, reliable, cost effective, and easy to use and install. The result of our search was the new FL2500 and FL3500 battery operated smart code locks. During the latter half of the year while we were in lockdown we added these locks to our locker bank products.
Both new locks have same programming features and lock mechanism. The difference between them is in the front panel, FL2500 has round front panel with rubber key buttons and also acts as a door handle. FL3500 has rectangular front panel with touch keys and uses a separate knob/handle.
Electric locks in general have two basic modes of operation in either public or private modes:
Private mode:
In private mode a single user is assigned a set code that they use regularly. When locker is unlocked the lock can then be set to either re-lock automatically after a few seconds so that when the user pushes the door closed the door is then locked. Or the lock stays unlocked so that it only re-locks when the user presses a button on the keypad to lock the door.
Public mode:
In public mode each user sets their code upon closing the door. When the door is opened, the lock automatically resets the code so the lock is ready for the next user to set their own code. The number of code digits or code length, can be set to be variable (up to 10 digits) or con be set to a simple 4 digit mode.
Public mode also has a special automatic unlock feature - can be set to auto unlock after set time. Set time is between 2 and 12 hours in increments of 2 hours so can be set to unlock after 2, 4, 6, 8 and 12 hours. and is great for public areas such as gyms where the centre management, wants to control locker use, and make sure patrons are not abusing locker use privileges by leaving lockers locked for extended periods.
The other main features of the new locks are:
Motorised lock mechanism, with stainless steel tongue.
Dual led light response: green light code accepted - red light not accepted.
Locker locked / in use status indicator in public mode - Flashing of red led at 2-3 sec intervals.
Silent mode - ability to turn key button press tone on or off.
Runs on 3 x AAA batteries (supplied) - Batteries are said to last 5000 - 6,000 open / close cycles.
Low battery warning,
External micro usb port for emergency power in case of battery failure using a any usb portable charger/ power bank.
Master key that plugs into external micro usb port for use as physical "key" for emergency unlocking, as an alternative to using the master code.
These new locks are are designed differently to the locks they replace. Our old code-locks the KL1000, and KL1200 are bases on the cam lock design model where the lock body on the outside of the locker door houses the electronic lock mechanism and batteries'. A mechanical shaft passes through the door to facilitate locking. The down side of this design is the lock body with keypad is quite bulky on the outside of the locker. However the advantage f the cam lock design is that it easily can be retrofitted to existing keyed locker doors . For this reason we still will continue to offer the kl1000 lock as a option to upgrade a manual keyed lock system to a electronic code-lock.
Our new locks are based on a more modern split system design, where the electronics are placed in the front keypad panel and the lock mechanism and batteries are placed on the other side with a wire link passing through the door to connect the two parts. The great advantage of this design is it allows us to provide much more sleek and athletically pleasing keypad front panels, keeping the bulk of the lock on the inside of the locker door where its not so visible.
To see our range of lockers with the new code-locks see our lock banks product category here.

Related Posts
Comments