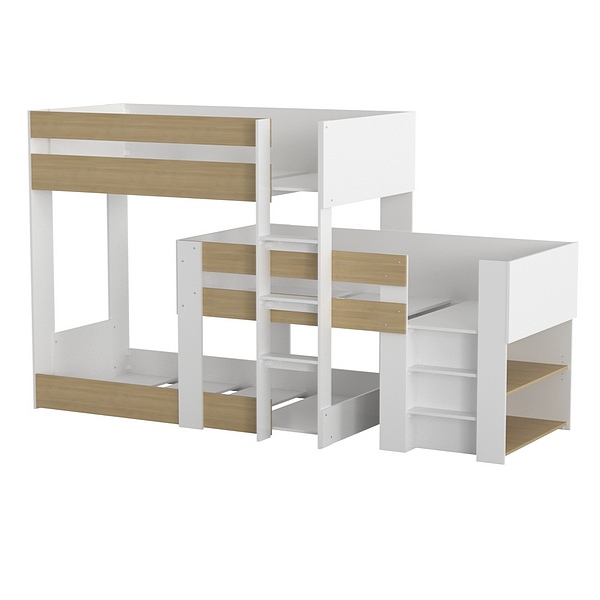 New Triple bunk bed - straight version of the triple transverse
Posted By: Asher Times Read: 2364 Comments: 0
We are pleased to offer the next instalment of the popular Triple transverse bunk bed!
We have been asked on a number of occasions about a straight or inline version of our corner bunk, and after agreeing to do the design for a recent customer, we have now added it a a new product on our website it order online. Initially we are offering it as a standard single bed size for all three beds but as demand grows we will add king single versions and a left and right ordinations (mirrored versions) if requested. If you would like a different version to the one currently offered please contact us.
We introduced the original triple transverse bed back 6 years ago in 2016 (See our original blog post here) to fulfil need for a "triple bunk". Unfortunately the Australian standard does not allow three beds stacked directly on top of each other, but the can be partially when arranged transversely or longitudinally, so at the time our solution was the corner version of our triple bed.
So while the corner version that we have been producing is still the best solution for most tight bedrooms, there are some situations, particularly long and narrow shaped bedrooms where the corner triple transverse bed either doesn't fit or is not the best solution. The straight versions now introduced we trust will be the answer to the more oblong rectangular shaped rooms.
As with the first design new design continues the design feature for having he middle bed "sit over" the main bunk so while it is assembled in place and interlocked with the main bunk it can be used separately if your needs change. An interesting feature of the new design, is the ability to adjust the amount the middle bunk sits inside and between the top and middle bunks. The overall length given in the specifications is the minimum length of space the bed takes up but you can move the middle bed further out by approx. half a meter to make more space under the top bunk, and over the bottom bunk. Bear in mind that the cupboard under the middle bunk will be inaccessible if you don't have extra space at the end.
See the new bed here!
Related Posts
Comments