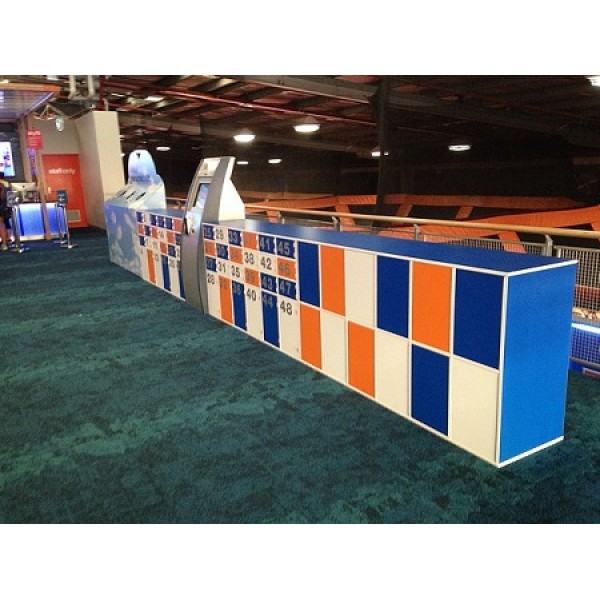 Lockers for Skyzone Trampoline park
Posted By: Asher Times Read: 6051 Comments: 0
Over the past year we have been involved in an ongoing project between ourselves and a company called Check in Systems in which we have built automated lockers for the Skyzone Indoor Trampoline Parks.
To date we have already built and supplied 3 locker sets of 48 lockers each which are automated from a central kiosk. the lockers enable Skyzone patrons to store their belongings in a safe place while they enjoy the facilities. The user simply pays the rental fee at the electronic kiosk which then allocates a locker to the user and then the door of their locker simply pops open! There is no keys to worry about or even handles on the doors themselves!
The lockers are a custom design which we build according to specification allowing for integration of electric locks and associated wiring all built into the cabinetry. The kiosk and electronic design was done by Checkin systems of Cheltenham in Melbourne and assembly with electric locking module wiring was done together in collaboration. The above photo was taken after we added a new batch of 24 large lockers to the original 48.
Although this was a purely custom design we also have our own design of standard locker banks in 3 and 4 high modules, and we can supply these units with standard key locks or electronic key in code locks or even, key fob / RFID tags for opening.
To view our standard locker range click here.
Comments