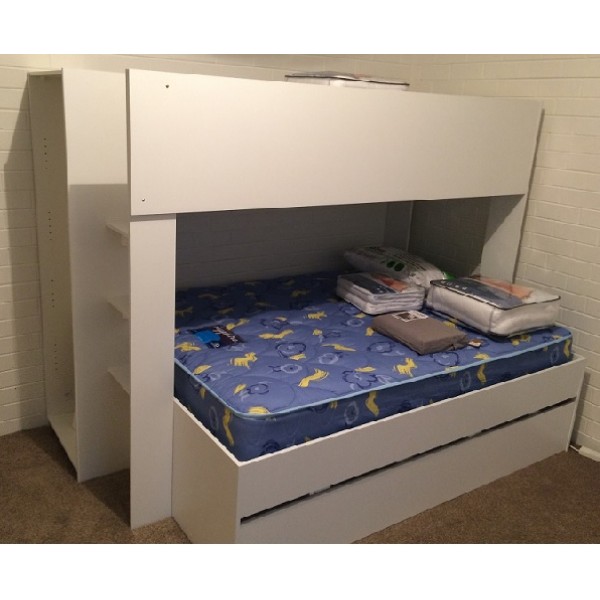 New Single over double bunk bed + optional trundle - Quadruple bunk bed!
Posted By: Asher Times Read: 7078 Comments: 0
Late this year before our annual break, we were contacted by a customer to make beds for his new Holiday hose on Melbourne's Mornington peninsula. The idea was to create a bunk bed that can sleep adults as well as kids in a compact space and after consultation with the customer we came up with our new single over double bed. In addition we managed to put a single trundle underneath, so that by rights we can call this a quadruple bunk bed!
The bunk bed itself is based on our integrated bookshelf platform. which integrates a adjustable shelf bookcase adjacent to the ladder of the top bed, giving great storage space as well as a quasi bed site table on the top of the bookshelf for the top bed. the bottom bed is stretched out in to a double bed size and has a unique mattress support system, which allows a (optional) single trundle to be pushed neatly under the bed.
A nice innovate feature to round it off - is that in the future if the top bed is not required the bottom double bed could be used by itself standalone, as well.
To see the product page with pricing click here.
Related Posts
Comments