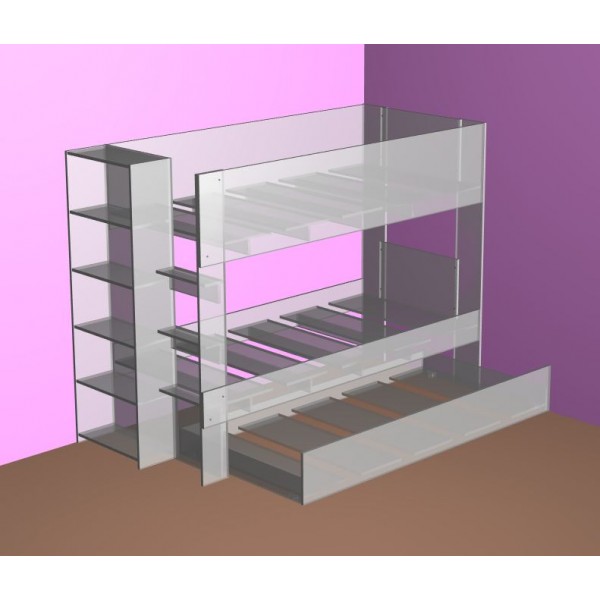 New bunk bed with optional trundle comes in two different heights!
Posted By: Asher Times Read: 7576 Comments: 0
We are really exited to announce our latest bunk bed, that comes with optional trundle or drawers.
While this new product is a natural progression from our other designs and retains many of their popular features: sturdy design built in bookcase, the main progression was to raise the bottom bed to create space for under bed storage or a third bed / trundle bed, which makes it more versatile, than say our mid height bunk bed with bookcase that has the bottom bed very close to the floor.
Thanks to the suggestion from a recent customer (thanks Kate!) and in keeping with our policy to design safe beds we have offered this new design in two heights a tall version and a shorter safer version. The tall option puts the top mattress base at 1350mm from the floor which is the maximum height allowed under the current Australian standard for bunk beds., while the shorter version allows for a safer design an easier access for younger kids. Despite raising the bottom bed the shorter version still maintains the same gap between beds as our previous low height / mini bunk beds.
In addition to offering the height option we have opted to launch this new product with the full suite of options:
Height

Mattress size - standard or king single

Ladder side - left or right

3 standard colours

Optional under bed drawers or trundle bed
All in all if you multiply all those options together you get a staggering 72 possible configurations of this one product! That amazing flexibility even if you have to wait a bit for us to make it, is the fantastic benefit of buying locally Australian made products!
You can see the new product here:
Related Posts
Comments