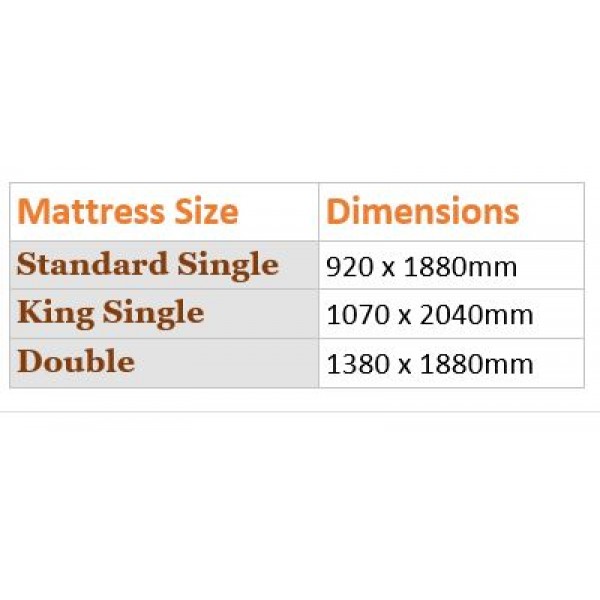 Our Range of kids beds and standard Mattress sizes
Posted By: Asher Times Read: 8702 Comments: 0
We are often asked about what is the standard size of mattresses that we make our range of kids beds for. So we have prepared the table above showing the three main mattress sizes that we make our range of children's beds in. The common ones are Standard single: 920 x 1880mm, king single: 1070mm x 2040mm and also double: 1380 x 1880mm. While if you check the various mattress suppliers given measurements you will find slight variations on the above listed sizes, but we have designed our beds around these figures that we have found to be the bigger so that our beds will fit and mattress that is made to the so called standard size.
When we initially design a new product such as a bunk bed we initially design it for the standard single mattress sizer and then gradually on request we extend the designs and product options to other mattress sizes. So you will find on many of our products such as a our compact mini bunk bed, our space-saver cabin style loft beds, and also our Cubby house bed, that we have already added the option to order the bed in king single. Regarding other beds if you want them in king single but only see it offered in standard single on the product page please contact us as we are usually happy to change the designs for you, and more often that not we have already have made the changes in our manufacturing designs, but have not had the chance to add the option to the website yet!
We are looking into some Local mattress manufactures, to see if we can offer quality mattresses made in Melbourne. Stay tuned to this space as we are looking into offering Mattresses to order on our website as well, so that you can order your quality kids bed that is 100% Australian made bed with quality Australian mattresses at the same time from the same place!
Related Posts
Comments