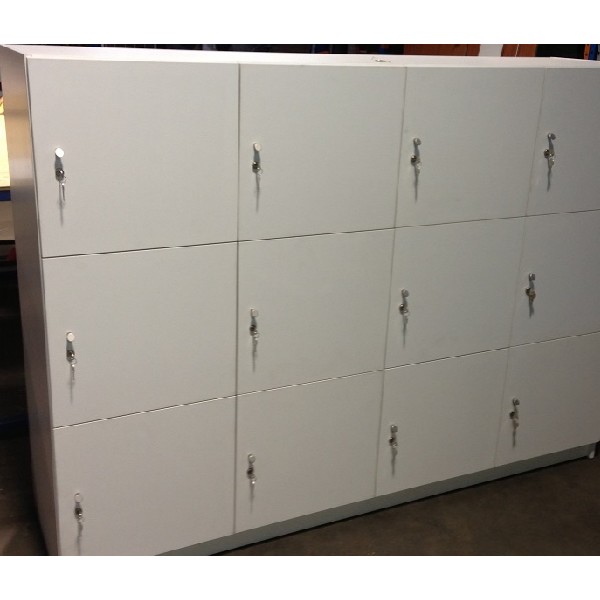 New Fitted Locker bank Products!
Posted By: Asher Times Read: 5364 Comments: 0
We are please to launch our new range of locker bank products. Our new locker banks come in banks of 1x1, 1x2 .. 2x1, 2x2 .. etc all the the way to 4 x 5! (and more coming soon. The best part is that you can order the exact size locker bank you need to fill up the space you have available. The lockers are automatically resized so that you get the lockers evenly spaced in the overall dimensions provided.
As with all our custom size products you can enter in the overall size, and colour you want and the price is calculated automatically for you within a few seconds. The product can then be added directly to your shopping cart and ordered online with your size as specified sent to us for production.
We have been continually looking for ways to streamline the data flow from our online order to our automated production and this results in savings that we can pass on to provide very competitive pricing on custom size lockers.
Or locker bank range comes complete with each door having is own, handle, standard lock with two keys supplied and we also have master keys available and a easy barrel removal system where we provide additional key barrel replacements that allow you to that change the lock combination instantly, if keys are lost. Its easy as pop in the special removal key, the barrel pops out and you insert a new barrel that comes with two new keys! - Combination locks cam also be provided contact us for a special quote.
Our lockers are open or empty as standard but you are welcome to contact us for accessories like clothes hanging rails, shelves or vertical dividing panels.
Check out our new range of Locker banks in the category below:
https://www.fittingfurniture.com.au/office-furniture/locker-banks

Related Posts
Comments