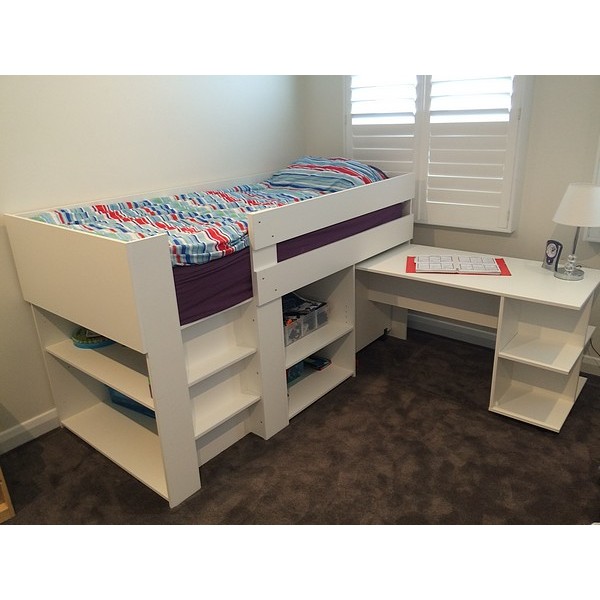 Spacesaver Compact mid sleeper bed - Now available in 8 different variations!
Posted By: Asher Times Read: 6652 Comments: 0
Our Spacesaver cabin bed is now available with many options you can choose the orientation - if the ladder is on the left or right sides, king or standard single mattress sizes and you can of course choose our doors or open shelves model. This brings the total variations available to 8 different models that we can make. and if you multiply that by the 3 colours we keep in stock that brings the total variations to a staggering 24!
How do we do it? Well it didn't happen overnight. 24 variations means many similar yet different designs. We started with the left hand orientation with doors and then one of our customers asked if you could supply it without doors and of course as we try to say as often as possible of course, and naturally we decided to split the models into two a cheaper no doors model and the doors model there is actually more significant differences between the two modes design-wise, but you will have to buy one of each to find out!
Next came the options for standard and king single mattress sizes and finally we had customers asking for each model in the right hand orientation.
This is the advantage of manufacturing locally in Melbourne and in Australia. While the other big stores might bring in one or two variations of their bed designs, no one can import 24 different variations of the same product in quantity and store them until they are sold. the way we do it, is to keep stock of our components and wood panels in 3 colours so that we are able to fulfil orders as they come in. Together with employing automated production methods we can produce our bed products according the the order no matter if they order 1 or 10!
Thank you to all our customers who have made the Spacesaver compact loft bed such a success!
To view and order the Space saver compact bed with doors click here.
To view and order the Space saver compact bed with open shelves click here.


Related Posts
Comments