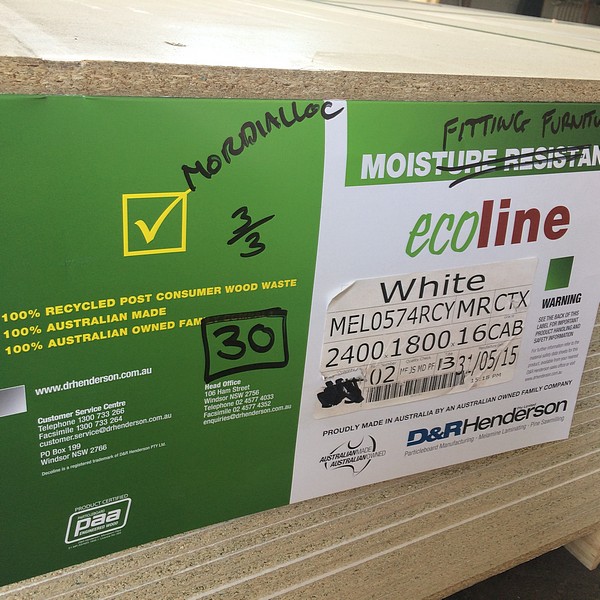 We now use Ecoline from 100% Recycled woodchips
Posted By: Asher Times Read: 4956 Comments: 0
We are exited to announce that we have started to use a new innovative whiteboard product that is made from 100% recycled wood-chips.
As many would know most melamine or laminate board materials are made from wood-chips usually derived from plantation pine trees. While these virgin wood-chips generally come from sustain-ably managed plantations which are in fact good for the environment compared to timber sourced from old growth forests. Our main board Supplier D & R Henderson recently introduced a melamine board material that is made from 100% recycled post consumer wood-chips. D & R Henderson are a large Particle board manufacturer, who are proudly Australian owned family company manufacture their board products at their Benalla site in country Victoria. Waste particle board generally ends up in council tips and landfills sites, & by manufacturing particleboard and melamine form recycled board will save significant amounts of waste being dumped each year.
At present we offer 3 material colours to choose from for all our furniture and now at least our nice white colour will be made from recycled timber. The same quality melamine that is used on our other materials is used on our recycled white material so you wont notice any difference at all and best of all you don't have to put up with inferior quality to do your part for the environment!
It is really thrilling to be able to offer our customers furniture made form Ecologically beneficial materials. We estimate that switching to recycled material just for our white colour option will save at least 30 tonnes of waste particle board being dumped in our landfill tips each year. So now by choosing to buy form us in addition to supporting Australian Manufacturing, you are also helping the environment!
Mid 2016 update: a year on, we have since stopped using Recycled board due to quality issues - but we are monitoring the product to see if we can re-introduce the material at a later date - we still use 100% Australian made board made in Country Victoria
Related Posts
Comments