Order Fitting Furniture:
Our Catalogue consists of unique designs that we make to order. Most of our designs can be ordered in a variety of sizes and finishes,so that your furniture will fit, and match your décor. If the size you need or the colour you love is not listed, simply contact us to see if we can do it for you.
Browse our furniture and order in three easy steps: 1 Find the product, 2 Select the size you need, 3 Choose Material finish / colours.
Browse Though the catalogue and find the right piece of furniture.
Pick the right height, & use the drop down box to select your preferred length.
Select from the options the material colour that will suit your space.
Latest Blog Posts
Published: 29/12/2016 Times Read: 516 Comments 0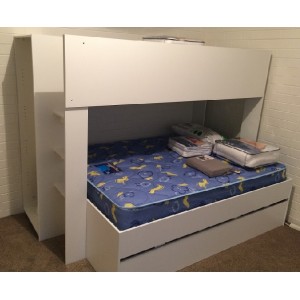 The idea was to create a bunk bed that can sleep adults as well as kids in a compact space and after consultation with the customer we came up with our new single over double bed....